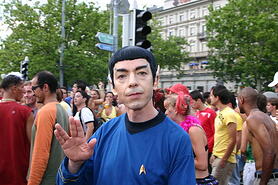 "Beam me up Scotty" is a catch phrase in modern English. It means to get me out of here. The Star Trek television series made this phrase popular back in the 1960's.
Star Trek takes place several hundred years in the future. In the show people can be teleported to other places. The Starship Enterprise has become one of the most famous ships ever.
So what is the difference between StarShip Shipping Software and and the Starship Enterprise?
Actually they have two words in common "Star" and "Ship". While the Starship Enterprise can teleport humans, StarShip shipping software can expedite the shipment of your packages right from your MAS 90/MAS 200 accounting system thereby automating your warehouse processes and eliminating duplicate data entry.
We recently held a webcast in regard to Starship shipping software for MAS 90 and MAS 200. Please see below for more information regarding StarShip's integration with MAS 90 and MAS 200.