Time and Attendance for Sage 100c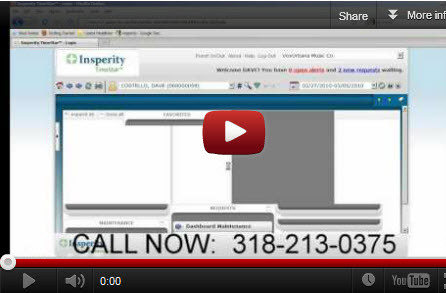 Watch TimeStar Insperity Video Demonstration Now!
Time & Attendance Software Options from Insperity Time and Attendance
Choosing the optimal time & attendance software solution to meet the unique needs of your business can be a complex and sometimes overwhelming task! However, by collaborating with the right team of experts who will listen and perform the due-diligence to understand your objectives and company culture, the entire process will be a stress-free experience you can have total confidence in.
Insperity Time and Attendance has been engineering, implementing and supporting time and labor management systems for the mid-and-small market since 1988.
From the beginning, we have remained committed to our unique and highly- consultative approach to Time & Attendance and Human Resources Technology. We certainly understand that one-size solution does not fit all! This is why Insperity Time and Attendance offers TimeStar™; our flagship, third-generation, web-native timekeeping product line in a variety of configuration and delivery models.
Highlights of the TimeStar™ Product Line
TimeStar™ is a true real-time solution.

TimeStar's™ 100% Internet-browser based user interface offers unparalleled accessibility.

TimeStar's™ Microsoft® SQL-Server™ database is massively scalable from under 100 employees
to thousands.

TimeStar's™ logic engine is the most flexible in the industry and is capable of processing
extremely complex rules.

TimeStar™ offers seamless integration with leading Human Resource Software, Payroll Processing
and Accounting Platforms and Bureaus.

TimeStar's™ granular and flexible "roles-based" security supports highly-personalized
employee self-service.

TimeStar™ employs the industry standard, powerful Crystal Reports® reporting engine.

TimeStar™ is engineered and supported entirely in-house, with no reliance on outsourcing
or 3rd parties.
Getting Started
To discover more about the TimeStar™ Timekeeping System that best matches your business goals, let's start by determining which software delivery model is best for you.
TimeStar Enterprise™ - Licensed (On-Premise)
With TimeStar Enterprise™, you purchase and own the software license and the complete solution is deployed within your internal corporate I.T. network. Through the TimeStar™ Support Program, Insperity Time and Attendance is your partner in maintaining optimal performance year-after-year. Configurations are available, ranging from high-value, streamlined SMB packages to highly-optimized, large-enterprise deployments.

TimeStar™ On-Demand - Software-as-a-Service (Hosted)
Looking to reduce your I.T. overhead or conserve capital? TimeStar™ On-Demand is an ideal fit with no up-front licensing costs and straightforward, per-employee/per-month "subscription" pricing. Insperity Time and Attendance hosts and manages the entire I.T. infrastructure at a world-class SAS70-TypeII data center. Whether you're an SMB looking to automate for the first-time or a large-enterprise ready to leverage the SaaS model, Insperity Time and Attendance has a TimeStar™ On-Demand solution to fit.